One of the islands on which the project's Intensive Study Program will take place is the Croatian island of Vis.
The island of Vis is located in the south of Splitsko-Dalmatinska county and it is the farthest inhabited island in Croatia, making it one of the most specific and special ones. It has a population of 3.460, as well as  2.650 to 2.700 sunny hours per year and 7 sunny hours per day which makes it the sunniest island in Croatia as well.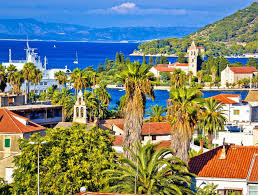 There are two towns on the island, city of Vis on the northeast coast and city of Komiža at the west coast. Additionally, there are 19 small villages also on the island.
Because of its gentle and pleasant climate, good geographical position, fertile land and abundance of fish, the island of Vis was even in prehistoric times an attractive place for early human communities. According to some research, traces of human presence on the island date back to Neolithic or younger Stone age, and remains of the Bronze and Iron ages is witnessed by hillforts and tumuli that can be found on the Vis.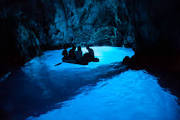 The island has a number of natural attractions as Blue cave which is a waterlogged sea cave with a glowing blue light which can be visible at certain times of the day as well as Stiniva beach in a sheltered cove which was pronounced as one of the most beautiful beaches in the world.
After the World War II and up until beginning of 90-ies, YNA (Yugoslav National Army) used the island as crucial strategic stronghold of the Yugoslav military, not allowing tourists to enter which largely determined the development path of the island. During this period, limited to none of the development of the island's tourist capacities was done and profiling into classic tourist destination that is characteristic of the Adriatic coast was slowed down, leaving Vis isolated for almost half of the century. With reopening the island, tourist shave become highly interested to visit due to natural and untouched beauties of the island, making the island highly popular in the high season but leaving it completely empty during the rest of the year. This leads to mass tourism but also to the population decline, older age population structure, emigration of young population to the coast and lack of professional workers especially in the tourist season. These are the challenges our students will tackle on the upcoming ISP.
Written by Tea Gagro Held, Vern' University of Applied Sciences, Zagreb