We have taken part in the VISIT Islands course and created a project from scratch. Our team collaboration has been online, using the Zoom application.
We began with joining the Canvas service and meeting our team. In the beginning of our 3-day sprint, we have received the company information and finally met all our team members 'in person'. So, let's follow with the description of our project evolution.
Our target company was Tackork – accommodation in the beautiful Finnish Archipelago where you can enjoy nature, sauna, spa and do activities like fishing or playing frisbee golf. Our task was to find ways to attract the Asian market and more specifically, the Chinese customers as they are one of the primary targets to Finland.
Team 12's solution is offering Asian, in our case – Chinese tourists a 'no-worry' pack. This includes a native speaker of their language who meets them on their arrival to Finland. He guides the customer through activities and nature of the archipelago. The customer pays one price, and gets everything included – guide speaking customer's language to meet and introduce to Finland, local and international food, accommodation in star-seeing cottage or tree-tent and 3 activities of customer's choice, not forgetting information and maps, specifically adjusted for the customer's language.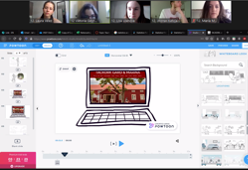 We also have offered Tackork to provide different-sized packages: all included or half-packages that consist of either accommodation and activities or accommodation and food.
We hope that our idea gets implemented by Tackork, and our research information serves as a good base for Tackork's service improvements.
TEAM 12 – Maria, Joonas, Laura, Viktoria and Lisa