Böda Sand is a beautiful destination with its long white beach at Öland. Why go further, when you can enjoy the ocean breeze closer than you think? This destination has a lot to offer for everyone. We wanted to know how they are doing during these unexceptional times, so we contacted them. We interviewed Anna Barkevall who is the CEO of Böda Sand. This post is written based on the answers we got from her.
As the world is changing so is Böda Sand—a new reality is coming up. They have started everything from a new white paper and are building up the company as a new one. As you might guess, the current situation has taken people onto the level of being concerned of public places, most of them have also cancelled their holidays.
On the bright side of this unfortunate situation, they have also found something good out of it. They learn everyday something that they can improve with; the business itself, cost cutting, digital experience and new cancellation policies. Mainly they have learned how to lead and support the business and their staff during this crisis. It is important to be creative and that is also one of the things they have taken into consideration.
At Böda Sand people can enjoy the street arts and street theater, which helps to keep the social distance to other people. They have lots of information and communication to keep up the safe environment.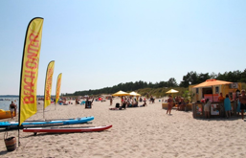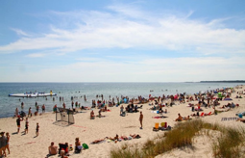 (Photos: Böda Sand )
We asked them how they see the future of the tourism industry. Ms. Barkevall thinks that the years ahead will be very tough but at the same time the domestic tourism products and destinations will be the ones that people will really want. Travelling abroad will be more expensive, so hopefully people will choose to stay back in their home countries and choose to be more environmentally friendly.
Big thanks to Böda Sand and especially to Anna Barkevall for answering our interview and letting us use the pictures that are originally from https://www.bodasand.se/.
Interviewed and written by Satu Kumpulainen and Veera Vatanen