On September 12, 13 and 14, 2018 the Department of Business Administration of the Technological Educational Institute of Epirus hosted in Igoumenitsa, Greece, the kick-off meeting of the project "Versatile Islands cooperating for New Services and Innovation in Tourism" (VISIT), in the framework of Erasmus+.
The meeting was chaired by Kristina Henriksson, Senior Lecturer at Laurea UAS (coordinator), Finland, who introduced the main aims and objectives of the project, while it was attended by the following representatives from partner universities: Irma Mänty, Development Manager at Laurea UAS, Tea Gagro, Project Manager from VERN University, Croatia, Marco Hardiman, Professor at Kiel UAS, and Per Petterson, Senior Lecturer at Linnaeus UAS, Sweden. In addition, the meeting was attended via Zoom by Jan Autio, Laurea UAS, Jeanette Lindholm, Laurea UAS, Päivi Mantere, Laurea UAS, and Manuel Stegemann, Kiel UAS.
The Department of Business Administration was represented by Eleftheria Dogoriti, Associate Professor and Head of Department, who is also the Project Manager at T.E.I. of Epirus, Periklis Tagkas, Professor and Vice Rector of T.E.I. of Epirus, Stefanos Vlachopoulos, Professor, Themistoklis Gogas, Ass. Professor, and Konstantinos Solakis, Academic Scholar.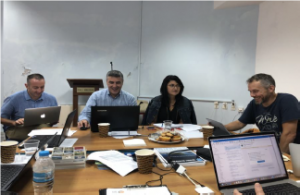 The partners discussed the Project Implementation Plan and task assignments, defined the members of the Steering Group, carried out a SWOT analysis on the intensive week in Paxi and on the project as a whole. Also, they discussed the intellectual outputs and financial matters.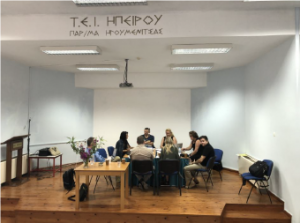 On the last day partners visited Paxi Island and had meetings and discussions with the local stakeholders and the mayor, Mr Vlahopoulos, organizing the final details of the forthcoming intensive week.
written by Eleftheria Dogoriti